« Back to News
---
Sep 29, 2014
Our lakes shall remain clean
As I drive down bridge hill and across the William R. Bennet Bridge I take in the glorious view of Okanagan Lake and am nearly blinded by the sparkle of the sun's rays glistening off of the surface. Oh what a beautiful place we live in! Most Okanagan residents love to take advantage of our clean, swimmable, large-enough-to-accomodate-the-busiest-boating-day lakes, but there is one thing we might be taking for granted; that is the fact that it is not infested with the dreaded Quagga and Zebra Mussels.
Smaller than their cousins that you might find on your favourite restaurant menu, Quagga and Zebra Mussels pose a serious and costly threat to aquatic ecosystems, salmon populations, tourist destinations, hydro power stations and other infrastructure facilities throughout western Canada. Native to Eastern Europe and Western Asia, Quagga and Zebra Mussels have caused millions of dollars in damage to the Laurentian Great Lakes area and have cost the North American economy billions of dollars to control. Look at what they've done to this shopping cart pulled out of an infested lake. Just imagine what they'd do to a boat's pipes?!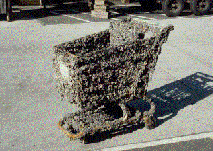 With boaters likely getting in their final cruise in this past weekend, Kelowna Chamber Board President and our CEO were accross the country at the Canadian Chamber's AGM, with a resolution in tow to stop these pesky creatures from hopefully never making an appearance in our neck of the woods.
This resolution recommended that the federal government take steps to:
1. Enact legislation that empowers the Canada Border Services Agency to detain, inspect and refuse admission to Canada to any vehicle contaminated with zebra or quagga mussels.
2. Facilitate cooperation among the states and provinces whose waters are not already contaminated by zebra and quagga mussels.
3. Support the establishment of a non-contamination perimeter about the Pacific Northwest Economic Region (PNWER).
4. Provide appropriate support to provinces engaged in combatting zebra and quagga mussels in their waters.
We are pleased to report that with a slight revision to include Canada's waterways that have already been affected by the mussels, our resolution was approved by the Canadian Chamber's member chambers of commerce and boards of trade, representing 200,000 Canadian businesses.
Our resolution is now a policy position of the Canadian Chamber and its members and will be pursued with the federal government over the coming months.
So the next time you take in a view of one of our inviting lakes, remember our victory. Together we will stand-by in hopes that our policy to protect our lakes, will grow up to become a law to protect our lakes.
-KCC